BMW R1200GS (2008)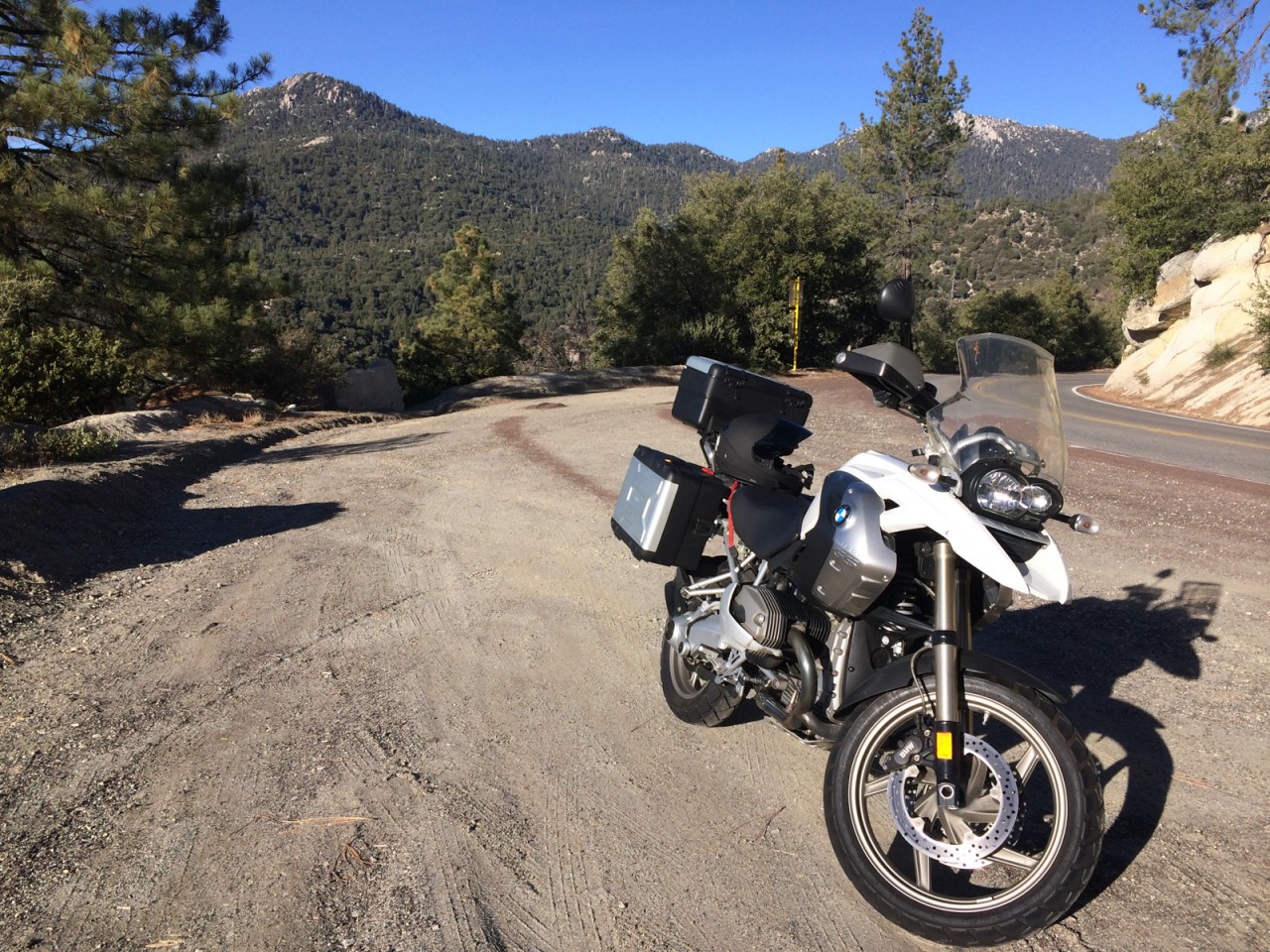 As soon as I bought my first bike, I started thinking about the next one… I knew a sport bike wasn't for me – though it's a lot of fun, simple, easy to work on, it's (to my eyes) ugly as sin, not much for comfort, cargo or passenger capacity.
For a while I thought I'd end up with a Triumph Bonneville or Scrambler, and I still think I'll have one some day. The one bike I kept coming back to was a BMW GS of some kind – the archetype of adventure-touring bikes, built to handle almost anything on-road, and at least somewhat capable off-road. My main concern was size – it looked massive to a guy with a sub-30″ inseam and I didn't really think I could handle it – and I knew if I got a GS, it'd have to be the big one, the 1200. I made a visit to the Long Beach Motorcycle Show in the winter of 2013 and got to climb onto a few R1200GS bikes and was, to my surprise, instantly satisfied that I could tame one.
Being a confirmed penny-pincher, I almost never buy big stuff new, and I wasn't about to plop down $20k+ for a new bike this year, so I spent several weeks scouring CycleTrader and Craigslist, looking for the right bike within a 700 mile-ish radius, and a few weeks before the end of the year I spotted the perfect machine, at the right price, in the right shape, at the closest dealership to my house. Within an hour of walking in, I was riding away on my dream machine – a 2008 BMW R1200GS in fantastic shape, impeccably maintained and fully appointed.
Before this bike, I scoffed at all the things I now appreciate:
Electrically heated handgrips – really, I'm not that old, but on a cold day or night this is heaven.
Luggage – three Vario hardcases let me run just about any errand, commute in comfort without a backpack, and take long rides with lots of gear.
Passenger pillion – I never rode with a passenger on the Suzuki, but Stephanie and I have taken at least a dozen rides together and it's a blast.
Fuel gauge – really, it was a revelation to not constantly worry that I was going to run out of gas due to forgetting to reset the odometer, or just miscalculating my consumption.
ABS – anti-lock brakes are still controversial on motorcycles, and they can be disabled when you want – but really, why would I? They work great and I love having the extra control in a quick stop.
Electronic suspension – this is pretty amazing… riding with a passenger? Put it in 2-up mode. It works. Carving canyons? Sport mode please!
Shaft-drive – ok, I may never have scoffed at a shaft drive, mostly because they are so uncommon. But not spending an hour every weekend checking, cleaning, greasing, and adjusting the chain? Win!
For all of its sheer bulk, the GS handles fantastically well – it may not be a super sport, but I can ride it harder, faster, and more confidently than the SV.